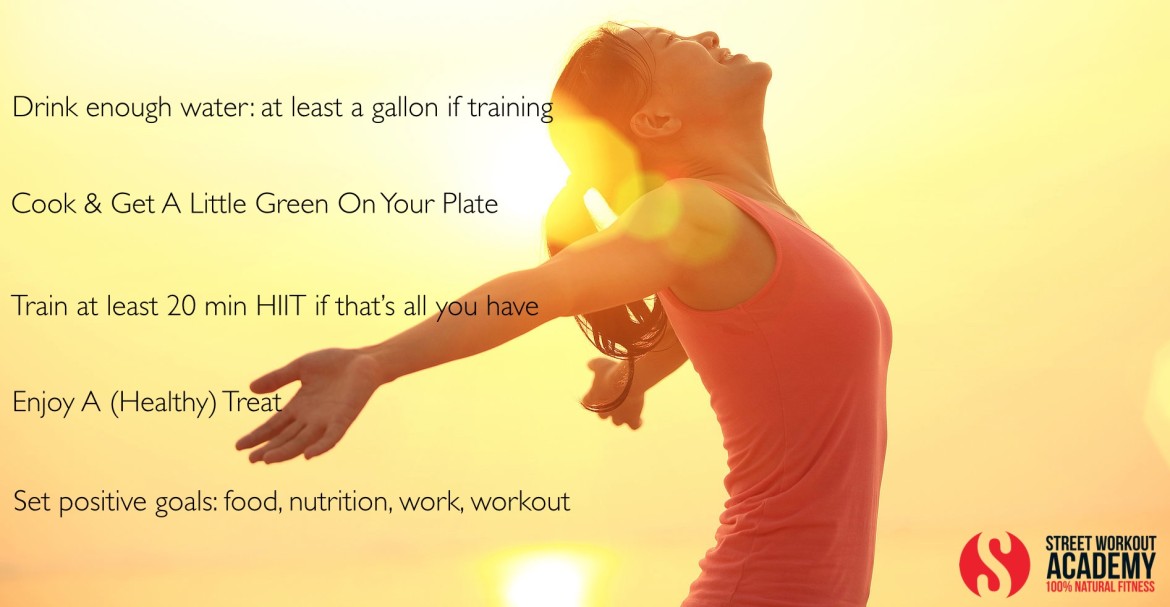 Anyone can do these 5 simple things.
Good habits are key to a sustainable active lifestyle.
It takes 21 days to build a habit.
Not that long!
DRINK ENOUGH WATER
Drink a full glass of water when waking up before breakfast, this will help kickstart the body for the day.
Drink a gallon of water per day (specially if working out), little by little.
Avoid big gulps while working out, you only need to feel hydrated while training.
COOK & ADD GREEN TO YOUR PLATE
Cook at least on meal a day
Put greens in all your meals
Breakfast: Salad for a breakfast brunch, baby spinach for a breakfast shake
Lunch & Dinner: all starchy green veggies. Think spinach, baby spinach, kale, broccoli, asparagus, all mixed greens, brussels sprouts. You can make salads, boil, bake in oven, stir fry or steam.
Snacks: kale chips.
TRAIN 20 MIN PER DAY
High Intensity Interval Training (20sec/10sec)
Use basic moves: push ups, pull ups, dips, squats, core
Use proper form
Set a 4 min timer for each move
Perform as many repetitions for each 4min blocks
ENJOY A HEALTHY TREAT
Learn how to make some great deserts and treats yourself!
Bake and eat treats that have nutrient dense ingredients (i.e fruits, nuts, dark chocolate, honey, oat, chia seeds etc…)
SET POSITIVE GOALS
Think of basic things everyday. Act accordingly to that.
how active you are going to be that day
what your workout or physical activity should be
what you'd like and should eat
what your work goals will be